You're in charge of keeping the employees in your office educated about cybersecurity – a little daunting, right? Security policies seem to change every day, and consistent training can become expensive.
So how can you get your employees' attention focused on cybersecurity while staying on a budget?
Posters, Posters Everywhere!
One of the quickest and easiest ways to spread awareness is to hang signs and posters in places for everyone in the office to see. Remember, posters don't have to be huge. 8.5" X 11" or 11" X 17" will work very well. Once you start looking for potential poster spaces, you might not be able to stop! Try some of these suggestions for greater visibility:
Stick a poster or two on the fridge door; you just need a magnet!
Tack them on bulletin boards–but don't hog the space!
Stand posters on break room tables for employees to read while eating.
Tape one to the back of each bathroom stall door or in front of urinals and you have a captive audience!
Hang a poster behind water fountains and kitchen sinks, they're sure to get a few glances.
Remember to update posters regularly! People will get tired of reading the same materials for months on end, so switch things up weekly or monthly. We have plenty of free posters so you can rotate them out as often as you like.
Challenge yourself: where's the most creative (unusual) space you can think of to place a poster?
Send Out Free, Fun Screensavers and Wallpaper
Desktop
screensavers and wallpaper
make great eye-catching cybersecurity reminders for employees. Just like posters, these images include brief, memorable messages to refresh and reaffirm cybersecurity tips and tricks. Distribute them through email, along with set-up instructions!
Combine Lunch Break + Movie Break
Have access to a large conference room? Roll out the red carpet and hold a movie screening! Take advantage of employees' breaks and invite them to join you in watching some funny and educational videos. Start by searching
YouTube
for cybersecurity-related topics. Some good keywords to search would be: social engineering, phishing, password creating, safe surfing, and human firewall.
Visit The Security Awareness Company's YouTube channel for our free videos! We like to keep things entertaining and light while also teaching our viewers important security concepts.
If your users don't have time for a movie, you can provide them with links to videos they can watch on their own using sources allowed by internal policy. Keep them updated with any and all educational videos over your company's intranet.
Celebrate Cyber Security Holidays
Throughout the year, choose from a plethora of cybersecurity-related holidays as an excuse to spread awareness! The best part? Many of these holidays are created by organizations who give out tons of free materials! For example,
StaySafeOnline
started
Data Privacy Day
to spread "the importance of respecting privacy, safeguarding data, and enabling trust." You can find infographics, videos, social media posts, banners, etc. in their
Resource Library
. Just research the holiday you want to promote in order to find a treasure trove of free graphics, posters, and more from others celebrating the same day!
Check out the SAC calendar for a list of upcoming holidays.
Play the Clean Desk Game
Have a half an hour to stay after work one night? Before the cleaning crew heads in, and after all the other employees head out, stick around to see whose workstations were left clean and secure. If deemed appropriate, you could leave notes on the unoccupied desks, pointing out what they did correctly, or incorrectly at the end of the workday. There are plenty of good and bad behaviors to note:
Whether computers and other devices are logged out of and/or shut off
Files or documents that shouldn't be out in the open
General clutter, or particularly tidy spaces
Unshredded and sensitive information in wastebaskets
Cups of coffee (or other food and drink) just waiting to be knocked over
Passwords written on Post-it notes–check for them under mouse pads and keyboards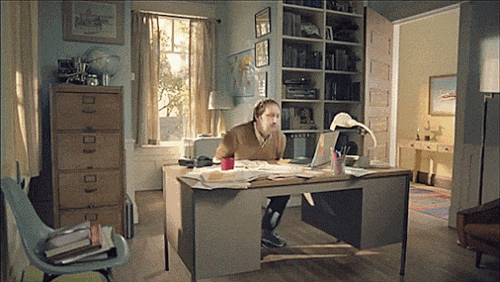 Start encouraging your users to take pride in their desks – to keep them clean not just for their own sake, but for that of security as well!
If it's your duty to keep employees secure and aware, you have your work cut out for you! There are plenty of free ways to get workers into a cybersecurity mindset while on the job. Get the message out there, reward good behavior, and remember to have fun!
Have your own ideas for reminding employees to stay cyber aware while working? Let us know by Tweeting us! We want to share as many culture-creating tips with our readers as we can!
After starting out creating digital and print marketing for a real estate company, Meg now assists in keeping up the marketing needs for SAC. When not working she's probably watching a good movie or indulging in local art and music.
Latest posts by Meg Krafft (see all)